Westfield Galleria at Roseville
1151 Galleria Blvd  Suite 260 Roseville CA 95678
Store Hours
Monday
10:00 AM – 8:00 PM
Tuesday
10:00 AM – 8:00 PM
Wednesday
10:00 AM – 8:00 PM
Thursday
10:00 AM – 8:00 PM
Friday
10:00 AM – 8:00 PM
Saturday
10:00 AM – 8:00 PM
Sunday
11:00 AM – 7:00 PM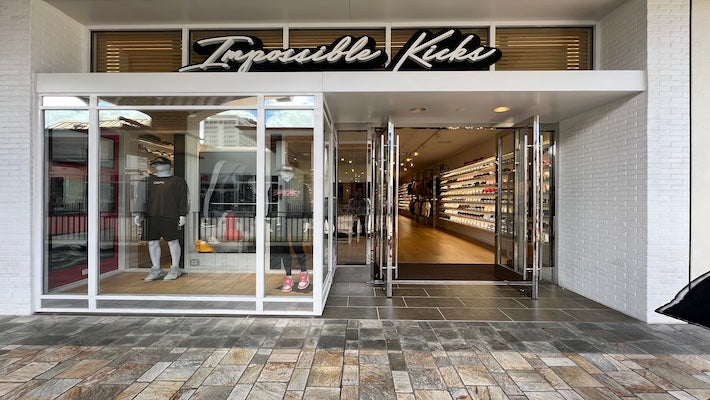 About our Westfield Galleria at Roseville store
Welcome to Impossible Kicks, Roseville's ultimate destination for sneaker enthusiasts and trendsetting individuals. Nestled in one of the city's most iconic shopping hubs, our establishment offers an alluring blend of sneaker culture and contemporary urban flair.
Step inside our modern and polished boutique, where you'll encounter an expansive array of premium sneakers, coveted collectibles, and fashionable streetwear. Our meticulously curated stock highlights leading brands such as Nike, Adidas, Jordan, and more. This encompasses exclusive collaborations, limited-edition releases, and timeless classics, catering to the preferences of every devoted sneaker aficionado.
Here at Impossible Kicks, our well-informed team exudes a genuine passion for sneakers, dedicated to delivering an unparalleled shopping venture. Gain personalized suggestions, expert insights on sizing, and comprehensive product details while you peruse our assortment. We're at your service to assist you in discovering the perfect pair of kicks that mirror your distinct style.
Conveniently situated within the heart of Roseville, our store ensures effortless accessibility for both local residents and visiting patrons. Benefit from ample parking amenities within the vicinity or opt for public transportation, as we're conveniently positioned near major thoroughfares with excellent connectivity.
Embrace the lively ambiance of sneaker culture by joining us at Impossible Kicks in Roseville. Immerse yourself in the latest releases, exclusive unveilings, and become part of a community that reveres individuality, innovation, and the shared passion for sneakers.